[fusion_builder_container hundred_percent="no" equal_height_columns="no" menu_anchor="" hide_on_mobile="small-visibility,medium-visibility,large-visibility" class="" id="" background_color="" background_image="" background_position="center center" background_repeat="no-repeat" fade="no" background_parallax="none" parallax_speed="0.3″ video_mp4="" video_webm="" video_ogv="" video_url="" video_aspect_ratio="16:9″ video_loop="yes" video_mute="yes" overlay_color="" video_preview_image="" border_size="" border_color="" border_style="solid" padding_top="" padding_bottom="" padding_left="" padding_right=""][fusion_builder_row][fusion_builder_column type="1_1″ layout="1_1″ background_position="left top" background_color="" border_size="" border_color="" border_style="solid" border_position="all" spacing="yes" background_image="" background_repeat="no-repeat" padding_top="" padding_right="" padding_bottom="" padding_left="" margin_top="0px" margin_bottom="0px" class="" id="" animation_type="" animation_speed="0.3″ animation_direction="left" hide_on_mobile="small-visibility,medium-visibility,large-visibility" center_content="no" last="no" min_height="" hover_type="none" link=""][fusion_text]
Gay and Lesbian Wedding Rings
Throughout gay and lesbian communities, new wedding ring styles are gaining popularity and attention combining traditional wedding ring fashion with the unique bond of a domestic partnership. Current trends for custom, engraved, and tattooed bands represent a variety of creative and personal styles that symbolize the commitment of a life-long relationship. Below are just a few of the unique alternatives available today.
Symbolism
Certain symbols, gem colors, and designs can accentuate the typical wedding band to befit any relationship. Within the gay community, custom bands correlating to the rainbow flag are growing in popularity. Many couples choose the color that best represents their own relationship in their selection of gem stones. Although the traditional rainbow flag underwent several changes over the past decade, the generally accepted flag consists of seven distinct colors. According to the International Co-operative Alliance these colors are given the following meanings: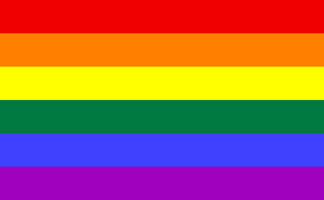 – Red stands for courage.- Orange offers the vision of possibilities.- Yellow represents the challenge that GREEN has kindled.- Green represents growth, a challenge to co-operators to strive for growth of membership and of understanding of the aims and values of co-operation.- Dark blue suggests pessimism, reminding us of less fortunate people in the world who are in need of the benefits from co-operation.- Violet is the color of warmth, beauty and friendship.
Due to the increasing popularity of the iconic rainbow flag, designer David Spada created a ring to emblemize the solidarity of the gay-rights movement. This "Freedom Ring" consists of six individually colored bands combined to recreate the symbol of the rainbow flag. Today, the Freedom Ring is worn for a variety of occasions including customized wedding rings based on Spada's unique design.
Male and Female Symbols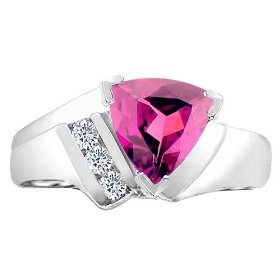 Since the early 1970's, the male and female astrological symbols (Mars for men, Venus for Women) have become representative icons for same-sex relationships. Recently, many wedding rings include engraved depictions of the gender signs intertwined to suggest mutual commitment and everlasting love. Outside the Greek signs, colored triangles are also popular among the gay and lesbian community. The symbol of a black or pink triangle originates from brandings given to homosexual prisoners in Nazi Germany. Pink triangles were assigned to gay men whereas black triangles were given to lesbian women. Hitler's downwardly pointed triangle is often inverted to symbolize the gay community's pursuit to achieve equal rights. Today, the more-commonly accepted pink triangle wedding rings are either engraved or feature a pink diamond center-stone.
Engraving
One common trend in gay and lesbian wedding rings is the use of engraving. Rings with individual names, dates, or special words are used to suggest a personal level of commitment. Engraving is a popular and more affordable option for customizing a wedding ring. Gold, white gold, platinum, titanium, and stainless steel are all metals capable of being custom engraved. Just remember that the softer the metal the more likely the engraving will stand out. Gold alloys and white gold are particularly strong options in engraved wedding bands, leaving the possibilities for customization virtually endless.
Tattooed Rings
A unique alternative of tattooing wedding rings is now growing in popularity among both the straight and homosexual communities. Tattooed rings are a powerful method of expressing permanency in a relationship and are generally affordable compared to the high costs of standard and customized bands. Many more options are available when engraving a ring. They can be as detailed as an intricate design around the circumference of the finger or a simple name or date on one side of the ring finger. Some gay and lesbian couples choose to use tattooed rings or finger tattoos to coincide with their actual wedding bands. Please remember that this enduring symbol of commitment is quite literally a lifelong decision. Removing a tattooed ring from a finger is near impossible, and can cost thousands of dollars to attempt. Luckily, tattooed rings can be altered if need be, so long as the wearer is comfortable with having the ring image remain for a lifetime.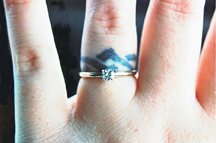 Unlike some larger tattoos, ring tattoos generally require less maintenance and may last up to ten years before a body artist needs to apply touch-ups. Outside of physical appearance and longevity, many couples opt for tattooed rings because of their functionality. People with metal allergies or active occupations may find a tattooed ring an attractive alternative for day-to-day comfort and durability. As with engraving and gemstones, tattooed rings can further intertwine symbols of gay and lesbian pride. Colored tattoos can be particularly attractive, so long as the individual is aware of their higher expense and necessity for yearly maintenance.
<<< back to our Jewelry Education Center[/fusion_text][/fusion_builder_column][/fusion_builder_row][/fusion_builder_container]