Many Christian couples choose beautiful Christian wedding rings designed with religious symbols such as the cross or fish. Sometimes, these rings come decorated with diamonds or other precious stones and are crafted in a wide variety of styles. They might also include designs of doves or other religious images.
Whenever you look at your ring, you will be reminded not only of your love for your partner but of your devotion to Christ. It will show that you have made your sacred marriage vows and sworn to God to love and honour each other.
There are so many different designs of Christian wedding bands to choose from. Some of them have crosses engraved on them and some are decorated with diamonds. Others have the symbol of the fish. Some Christian wedding rings are engraved with favourite passages from the Bible such as the Lord's Prayer.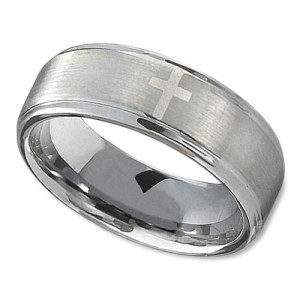 We are proud to offer two Christian wedding rings that every buyer has been incredibly happy with. Both rings are made from Tungsten. This offers some distinct advantages. These rings are nearly indestructible and scratch proof. Unlike gold rings that become scratched and even bent over time, these rings do not scratch easily and maintain their shape for the lifetime of the ring. Both rings also feel quite substantial.
These rings come with a Lifetime Replacement Guarantee. Should your ring somehow become scratched, chipped, discolored or damaged in any way, we will replace the ring free of charge. Should you gain or lose weight and the ring no longer fits properly, we will also replace the ring.
It takes some time to find the ring that appeals to you. But when you do, you will be able to have a beautiful Christian ring which will symbolize your love and your faith. Purchasers of these rings have been extremely happy and we are proud to say that we have never had a single ring returned to us. This is testament to the fact that these are beautiful rings that any buyer will be very pleased to wear and own.